As those of you who subscribe to this blog's feed have noticed, a place holder record was written into my RSS feed. Having just reinstalled my operating system (I have switched back to Vista Business once again), I was configuring my Windows Live Writer for this blog. If you click View –> Update Weblog Style you will be asked the following: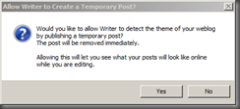 Just say No!
If you click Yes it will post the following placeholder on your blog. And, while it is able to delete it successfully (meaning it won't show up when you browse your blog), you will have problems getting it out of your RSS feed.
This is a temporary post that was not deleted. Please delete this manually. (79142faa-4883-4d2a-bb80-daabb3ef865c)
Pretty annoying. I'm still trying to figure out how to get rid of it. It no longer exists in my blogs contents, yet I can't seem to get it out of my feed (which is managed by Feedburner).
I'll post an update if I figure it out.
Just be warned!!