I installed Windows XP Professional with SP 2 today and was amazed to see this when I ran Windows Update: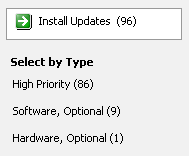 96 updates!
It literally took longer to install all the Windows XP updates than it did to install Visual Studio 2005 Team Developer Edition. Amazing!
Maybe it's time for SP 3?