As a native Illinoisan, I know that the Taste of Chicago is a big deal! It is the largest outdoor food and music festival in the world, and is attended by more than 3 million people each year. If you like food and music, this is a festival for you!

This past year, the City of Chicago needed to quickly build out an interactive map for the event – and when I say quickly, I mean it. They needed an interactive mapping experience built and deployed in less than 10 days. To help make this a reality, the City of Chicago turned to a very capable Microsoft partner, West Monroe Partners (WMP), for assistance.
The challenges here were pretty clear:
Build an interactive and immersive website in less than 10 days.

The website needed to scale massively for the event, but once the event was over they wanted to scale the infrastructure down.

WMP wanted to leverage their existing skills and tools.
WMP proposed the following – an immersive Silverlight Deep Zoom experience running on Windows Azure (if you're not familiar with Deep Zoom, take a look at the Hard Rock memorabilia site). You can still visit the Taste of Chicago interactive map – check it out: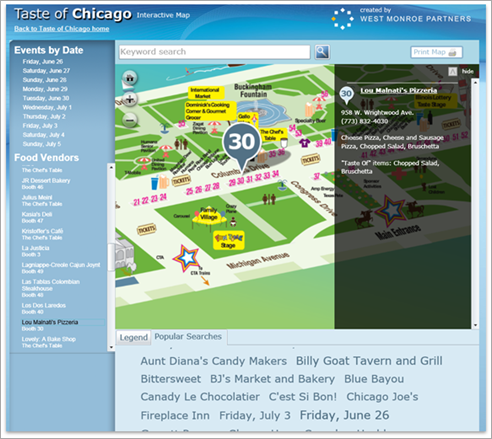 The Windows Azure Platform – which I've discussed many times on my blog – is Microsoft's cloud platform. It is comprised of the following: Windows Azure, an operating system as a service; SQL Azure, a fully relational database in the cloud; and .NET Services, consumable web-based services that provide both secure connectivity and federated access control for applications.
The City of Chicago's decision to go with Silverlight and Windows Azure provided a host of very tangible benefits, including:
Fast, cost-effective development

Immediate customer satisfaction

Increased agility

Dynamic user experience
In fact, this is broken down in detail in the Taste of Chicago case study with WMP and the City of Chicago.
Additionally, Erik Brown – technical lead at WMP – spoke to Microsoft about their experience building the interactive map in Silverlight and on Windows Azure. I definitely recommend you take a look:
A really great story about how a capable partner can leverage innovative technology to not only dazzle a customer, but provide a valuable service for millions of users.
I hope this helps!