In addition to building the Composite Application keynote demo presented by James Conard and Bob Muglia, I presented a session on the new Windows Azure AppFabric Caching service that's now available as a CTP release in the AppFabric LABS environment. You can find the presentation here: http://player.microsoftpdc.com/Session/1f607983-c6eb-4d9f-b644-55247e8adda6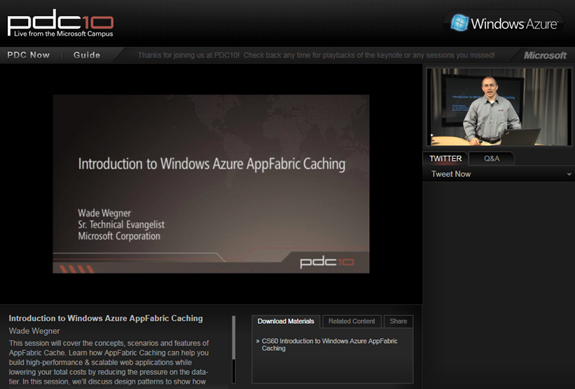 A few interesting notes on the Caching service:
It's a distributed, in-memory, application cache provided entirely as a service – no installation, management, or deployment required

Low latency and high throughput (i.e. it's fast)

Based off of Windows Server AppFabric Caching (codename "Velocity"), and the development experience is identical

Local cache support allows you to keep your data in-memory on the client, reducing network latency penalties

You can cache any managed object, regardless of the size; if using local cache you pay no serialization costs

Secured by the Access Control service

Pre-built providers for ASP.NET session state and page output caching
You're going to hear a lot about the Caching service from me, as it fills a very significant gap in the Windows Azure Platform.
For some more information, you should also take a look at these resources:
And of course, visit http://portal.appfabriclabs.com/ to try it out today!