I was excited to receive my MSDN Magazine in the mail this week, as an article written by myself and Karandeep Anand—a Principal Group Program Manager on the AppFabric team—was finally published. These things generally take a month or so from the time you finish writing them, which is often challenging in a services world.
You can now read this article online: Introducing the Windows Azure AppFabric Caching Service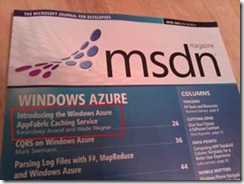 Don't let the title deceive you – it's not your typical "Introducing…" or "Getting Started" tutorial. We wanted to delve deeper, and included:
Under the Hood

Architectural Guidance

Setup

Using Cache in Your App

What's Next?
Karan and I are also giving a talk at MIX11 entitled Build Fast Web Applications with Windows Azure AppFabric Caching where we'll not only build on foundational principals laid out in this article, but also show a lot of compelling demonstrations.
The best part is that you can start using the Caching service today as part of the Community Technology Preview (CTP). Sign up at: https://portal.appfabriclabs.com/.