Today we released the Windows Azure Platform Training Kit – August 2011. The Windows Azure Platform Training Kit (WAPTK) includes a comprehensive set of technical content including hands-on labs, presentations, and demos that are designed to help you learn how to use the Windows Azure platform.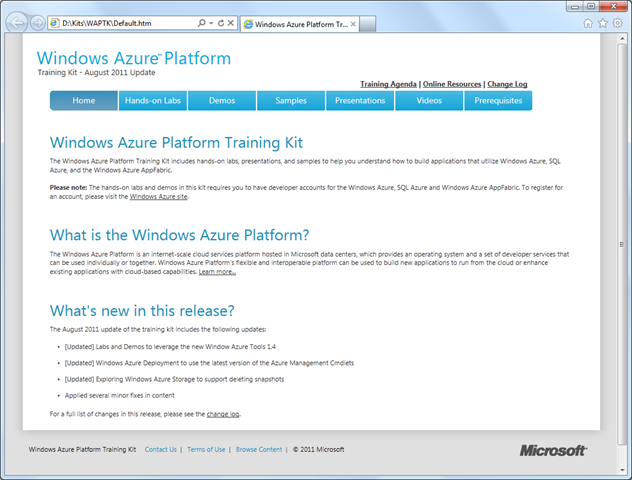 In addition to the offline training kit above, we have pushed updates to the Windows Azure Platform Training Course on MSDN.
What's new in this release?
Today announced the August 2011 release of the Windows Azure Tools for Microsoft Visual Studio 2010 (i.e. VS Tools for Windows Azure 1.4). New to these tools are the following capabilities:
Profile applications running in Windows Azure

Create ASP.NET MVC3 Web Roles

Management Multiple service configurations in a single cloud project

Improved validation of Windows Azure packages
For more information on the updates to the tools, see these excellent posts by Technical Evangelists Nick Harris and Nathan Totten.
We spent a significant amount of time reviewing and updating the training kit to make sure that the content works great with the 1.4 tools release. Additionally, we performed updates to hands-on labs and demos.
The August 2011 update of the WAPTK includes the following updates:
Labs and Demos

All the labs and demos have been updated to leverage the new Window Azure Tools 1.4.

Updated SSMS dependency of affected labs to SSMS SP1.

Windows Azure Deployment

Building ASP.NET Applications with Windows Azure

Changed the way the membership password was encrypted to fix minor bug when deployed to azure.

Exploring Windows Azure Storage

Updated the code to support deleting snapshots.

Windows Azure CDN

Applied fix to a minor bug in the Overview section.
Feedback?
We are always looking to make improvements to the WAPTK. If you encounter any bugs or have any problems, please send us feedback at: azcfeed@microsoft.com. Additionally, if there's additional content you'd like to see in the training kit, please let us know on the Windows Azure Platform Training Kit Forum – you're feedback is highly valued.