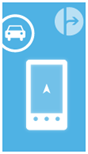 If you follow my blog or on Twitter then you know that I'm passionate about using services running in Windows Azure to power mobile applications. To effectively run mobile services for mobile apps you need a platform that is responsive to a global audience and able to scale to the needs of your user base – Windows Azure provides these capabilities.
As part of the refresh of the WindowsAzure.com we have also provided additional information about mobile scenarios – it's worth taking a look.
We've built a lot of resources that you should take a look at, including: the Windows Azure Toolkit for iOS, the Windows Azure Toolkit for Android, the Windows Azure Toolkit for Windows Phone, and a host of NuGet packages for Windows Phone and Windows Azure. All of these resources include native libraries (e.g. Objective-C for iOS and .NET for Windows Phone), sample applications, documentation, and tools. We also have a lot of videos and guides available to make the process of getting started as easy as possible.
How can you help?
One of my primary goals in 2012 is to continue to find and build compelling mobile applications that benefit from Windows Azure. We already have few great stories (see T-Mobile USA, Red Badger, easyJet, and more) but that's only scratching the surface – we can do a lot more!
So, I have a few questions of you:
Are you building mobile applications that use services in Windows Azure?

Are you looking for additional PR and opportunities to highlight your applications?

Have you tried any of the toolkits or NuGet packages?

Do you have feedback for me regarding the use of the toolkits or NuGet packages?

What should we do that we aren't today?

Do you have an application released to a marketplace – either Windows Phone, Apple, or Android – that uses Windows Azure?
If you have any feedback to these questions then please contact me at wade.wegner@microsoft.com. I want to hear from you!
Let's see what we can accomplish together!