Excellent keynote today by Scott Guthrie and the Windows Azure team! I don't know if it's because I'm seeing it on the other side for the first time or if it's due to the amazing new capabilities introduced into Windows Azure, but I loved every second of it! Within a few minutes Scott had jumped into a demo and it was nonstop thereafter!
I've been waiting for almost a year to write this blog post.
Keynote with Scott Guthrie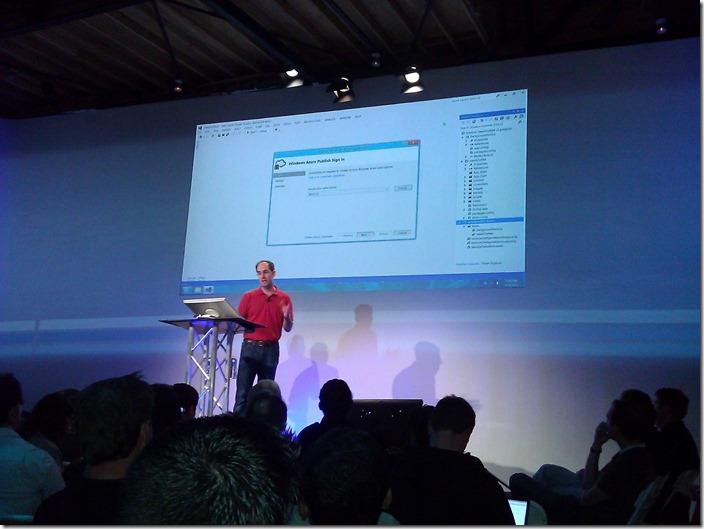 In order to get this post out quickly I decided to share my rough notes from the keynote. Over the coming days and weeks I will certainly expand this with more information.
Scott Guthrie:
Today's release "elevates Windows Azure to a new level"

Capabilities like Windows Azure Web Sites and open source libraries open the platform to many more developers

Three pillars of Windows Azure:

Windows Azure has pioneered Platform-as-a-Service

Today we're enabling Infrastructure-as-a-Service (IaaS)

Support of Linux is how we're embracing openness in a new way

Supporting more languages, protocols, and SDKs

Open-source libraries and SDKs on Github under the Apache 2.0 license
Demo: New Windows Azure website
There's a new Linux and Mac installer for Node.js

Spent time optimizing the portal to work across platforms

Full monitoring and statistics through the portal

Everything done through the portal is communicating to APIs thereby allowing you to do everything through the command line

IaaS

Create a new virtual machine

Anything installed on the machine will persist; full durable VM

Image gallery

Linux distribution built into the portal

We have a number of SDKs to download, including Mac

installs an Azure utility and wires up a BASH shell

including ASCII art

SSH'd into Ubuntu machine

Virtual Networks

Not just upload VMs into the cloud

Integrate into your existing networks and VMs you already have

Shipping virtual private networking

A wizard to create an address space and subnet; we'll virtualize these addresses

You can provide DNS servers in the cloud or on-premises
Scott Guthrie on VMs:
Partner: RightScale
Michael Crandell, CEO

Mission: to build a broad cloud management platform

Web-based environment that allows companies to manage everything from development to delivery of applications running on cloud infrastructures

Think of us as a bridge between the apps and the infrastructures you want to run on (public, private, or hybrid)

Partner: worked with the Windows Azure team to interact with the new IaaS APIs

Brought to Windows Azure the full set of RightScale capabilities

When run by RightScale the solution includes auto scale

Why Windows Azure?

Microsoft knows how to run global cloud infrastructure with a high degree of operational excellence

IaaS + PaaS is an industry first – provides an entire environment for the development and deployment of apps that are compelling, from simple to complex

Openness – a clear commitment of openness at multiple levels
Scott Guthrie on Web sites:
Benefits

Build with ASP.NET, Node.js, or PHP

Deploy in seconds with FTP, Git, or TFS

Start for free, scale up as your traffic grows

Bill Staples demo

Opposite end of the cloud spectrum

don't want to focus on the platform; don't want to install the frameworks

Visual Studio & .NET

Quickly created a website

Downloaded a publishing profile that includes all the connection information

Opens up Visual Studio and ASP.NET MVC 4

Import the profile and publish

Support in both VS 20120 and VS 2012

Built and published into the cloud in just a few seconds

Updated a string and republished

Mac with Node.js

Instead of the portal use the commandline

Use the azure command

Uses git to deploy

One update connects to Mongo running in a Linux VM

Sometimes it's nice to build an application without writing code

Best of Windows Azure and the power of open source

MySQL: worked with ClearDB to provide MySQL as a service

Scale

Scale out

By default, website is running as a Shared Website

You can increase instance count

Scale up

Move from Shared to Reserved

Only my websites are routed

10 free shared websites
Scott Guthrie on Cloud Services:
Another model for building infinitely scalable applications and services

The traditional PaaS offering that Windows Azure has had since release

Creates a multi-tier applications using the website Bill created and adding a worker role

Process

Upload a service package (which is essentially a zip file) into the cloud

Fabric controller provisions the machines and deploys my bits and brings it into rotation through load balancer
Scott Guthrie on Building Blocks:
Overall message is to enable developers to focus on applications and less about infrastructure

Application building blocks

big data

database

storage

traffic

caching

messaging

identity

media

CDN

networking

Delivered by MSFT and partners

Language support for: .NET, Node.JS, Java, PHP, Python

Libraries you can consume natively

Libraries on Github under Apache2

SQL Database

Blob storage

Features

Highly available, scalable and secure file system

Blobs can be exposed publically over http

Continuous geo-replication across datacenters

Real-time data showed in portal

SQLs surfaced in the portal

Cache

implementing Memcached protocol support

Use the distributed service or run it in your own instances

Identity

Integrate with enterprise identity

Enable single sign-on within your apps

Enterprise Graph REST API

93% of Fortune 1000 use Active Directory

Service Bus

Secure messaging and relay capabilities

Easily build hybrid apps

Enable loosely coupled solutions

Cross platform SDKs

Media Service

Create, manage, and distribute content

Target any device or media format

Ingest, Encode, Protect, Stream

Marketplace integration

Azure in 89 countries and territories